JNCIS-SP - Juniper Networks Certified Internet Specialist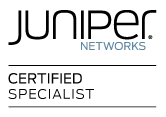 Descriptionremove_circle_outline
Designed for experienced networking professionals with beginner to intermediate knowledge of routing and switching implementations in Junos, this written exam verifies the candidate's basic understanding of routing and switching technologies and related platform configuration and troubleshooting skills.
JNCIS-SP exam topics are based on the content of the recommended instructor-led training courses, as well as the additional resources.
The JNCIS-SP certification is valid for three years. To view the recertification options, go to the Recertification webpage.
Detailed Exam Objectives include:
Protocol-Independent Routing
Open Shortest Path First (OSPF)
Intermediate System to Intermediate System (IS-IS)
Border Gateway Protocol (BGP)
Layer 2 Bridging and VLANs
Spanning-Tree Protocols
Multiprotocol Label Switching (MPLS)
IPv6
Tunnels
High Availability
Prerequisite Certification Tracks
Certification
JNCIA-JUNOS