JNCIS-FWV - Juniper Networks Certified Specialist FWV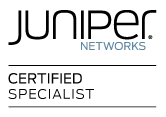 Descriptionremove_circle_outline
Designed for experienced networking professionals with intermediate knowledge of Juniper Firewall/VPN Series products and ScreenOS software, this certification track verifies the candidate's understanding of security and routing technologies, and related platform configuration and troubleshooting skills.
JNCIS-FWV exam topics are based on the content of the recommended instructor-led training courses, as well as the additional resources.
JNCIS-FWV certification is valid for three years.
Exam topics include:
System Setup and Initial Configuration
Layer 3 Operations
Security Policies
NAT
IPsec VPNs
High Availability
Attack Prevention
System Administration, Management and Monitoring
Prerequisite Certification Tracks