JNCDS-WAN - WAN Design, Specialist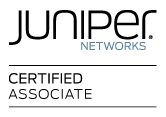 Descriptionremove_circle_outline
Designed for networking professionals and designers with intermediate knowledge of wide area network (WAN) design, theory, and best practices, this written exam verifies the candidate's understanding of WAN design principles.
JNCDS-WAN exam topics are based on the content of the recommended instructor-led training courses (when available), as well as the additional listed resources.
The JNCDS-WAN certification is valid for three years. Recertification is achieved by passing the current version of the JNCDS-WAN exam.
Detailed Exam Objectives:
WAN Connectivity
Network Availability and Traffic Prioritization
Service Provider Core WAN Design
Service Provider Edge WAN Design
Enterprise WAN
Data Center WAN
WAN Security
WAN Management
SDN in the WAN
Prerequisite Certification Tracks